Quality Foods IGA
Recipes
http://www.qfiga.com/Recipes/Detail/7666/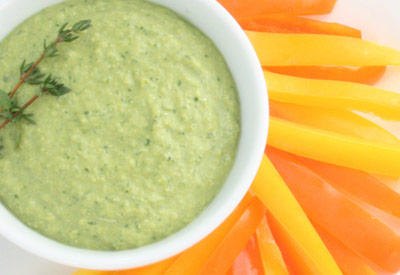 Fresh Green Pea and Parmesan Dip
Customer Rating:
1 Ratings 1 Comment
Yield: 8 servings
Preparation Time: 15 to 20 min
Ingredients
2
cups
fresh OR 1 package (12 ounces) frozen green peas, thawed

1
cup
stemmed and packed baby kale leaves

1
container
(6 ounces) nonfat, plain Greek yogurt

1/4
cup
shredded Parmesan cheese

2
teaspoons
fresh thyme leaves

1/4
teaspoon
salt

1/8
teaspoon
ground black pepper

1
yellow sweet bell pepper, cut into strips

1
orange sweet bell pepper, cut into strips

Garnish with a stem of fresh thyme
Nutrition Facts
Yield: 8 servings
Approximate Nutrient Content per serving:
Calories:
80
Calories From Fat:
9
Total Fat:
1.5g
Saturated Fat:
0.5g
Cholesterol:
0mg
Sodium:
150mg
Total Carbohydrates:
11g
Dietary Fiber:
3g
Protein:
7g
Calcium: 10% Daily Value
Please Note: Nutritional values listed may vary from final results depending on actual measurements, products and brands used to prepare the recipe.
Directions:
Combine peas and kale in a microwave-safe container with lid. Add 3 tablespoons of water and cook on high for 2 to 3 minutes or until just tender. Pour into a colander and allow to cool.

In a food processor, combine peas and kale, yogurt, Parmesan cheese, thyme, salt and pepper. Process until smooth.

Store in refrigerator until ready to serve. Serve with pepper strips.

Image and Recipe Courtesy of Midwest Dairy Association
Please note that some ingredients and brands may not be available in every store.
Quality Foods IGA Recipes
http://www.qfiga.com/Recipes/Detail/7666/
.